Sylvia Pope's 1,800 Christmas baubles on ceiling in Swansea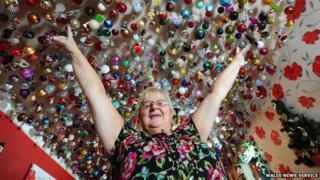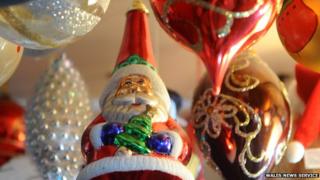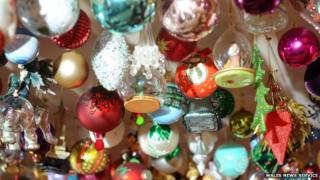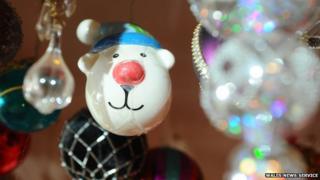 A Christmas-loving grandmother has had her 1,800 baubles hanging from the living room ceiling all year because a bad knee stopped her taking them down last January.
Sylvia Pope, 70, from Swansea, would usually start sticking the baubles up one-by-one in September
She started collecting them in 1999 and has ones from around the world.
"I'm just a Christmas kind of woman," she said.
"People laughed that there were Christmas baubles all over my house in June and July but I don't mind."
Ms Pope added; "I had an operation on my knee so I couldn't get up and down my step ladder so quickly."
Holes
She started pinning them to her living room ceiling because there are far too many baubles for a Christmas tree.
They leave so many holes in the ceiling that she has to redecorate once they are all taken down.
"They stayed up after last Christmas - and they've been there ever since," said the retired bingo caller.
"I love it really and at least it means I don't have to spend all those hours putting them up again.
"I felt really at home with my decorations up all year."
Her collection also includes Disney characters, a London red bus, a New York taxi, aeroplanes, an old fashioned telephone and helicopters.
Sylvia said: "I spend about £100 a year on new baubles and visit all the festive markets to find new ones.
"My grandchildren and play 'I Spy' with the different baubles. We have great fun."