Langland Bay sea wall repair works to begin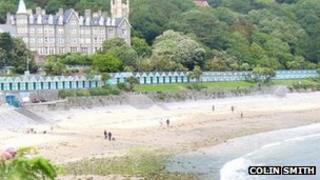 Work to rebuild a sea wall which collapsed a year ago at one of Swansea's popular beaches is to begin.
After bad weather destroyed part of the sea wall protecting the promenade at Langland Bay Swansea council laid a wooden boardwalk over the summer to make the beach fully accessible.
Now the £400,000 repairs will take place and should be finished before the tourist season begins in April.
Limestone will be used to match the existing stonework at the site.
Swansea council cabinet June Burtonshaw said: "One of Swansea's main attractions and strengths is its coastline. At times, the severe weather can have an impact on it.
"Everything has been done since the wall collapse to minimise the impact on visitors to Langland during the summer.
"We promised to ensure the repairs would be done once the season was over and that is what we are now doing."