Matt Baker surprised by underwater litter in Swansea Bay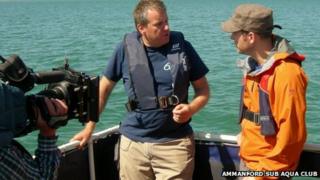 An underwater litter pick on the Swansea Bay seabed has surprised TV presenter Matt Baker at the amount of rubbish being abandoned.
He watched the clean-up by Ammanford Sub Aqua Club being filmed for Sunday's edition of Countryfile.
"It was quite an eye-opener," said Mr Baker, as the divers removed tin cans, bottles, fishing gear and plastic bags.
Diving officer Colin Whitehall said: "The damage that can be done to marine life is immense."
"In fact, we have released all sorts of fish that have become trapped in nets and only last year a club diver came across a smooth-hound, a member of the shark family, that was trapped in old netting."
Ammanford Sub Aqua Club carried out their annual underwater litter pick to coincide with a National Trust beach clean-up that was taking place at Rhossili on the Gower coast.
"It's been a fantastic day working alongside the Countryfile team and I hope the televised report raises awareness of the damage to our precious marine life from discarded rubbish," said Mr Whitehall.
"I think it's very much a case of 'out of sight, out of mind' for a lot of people who throw rubbish into the sea.
"But just because you can't see it doesn't mean it isn't there and isn't causing huge damage to the environment and marine life in general."
Countryfile viewers will hear Matt Baker providing commentary from a boat as an underwater cameraman films the divers in action.
"It was quite an eye-opener for me going out with Colin and the Ammanford divers, seeing the sheer amount of rubbish they haul up from the depths," said the presenter.
"They're a great bunch - really dedicated to keeping our seas clean and tidy - and with the sun shining and a lot of laughs on-board, we all had a really lovely day".
Countryfile is on BBC One Wales on Sunday at 19:00 BST