Two cliff climbers rescued after fall at St Govan's Head, Pembrokeshire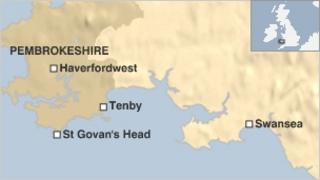 Two climbers have been taken to hospital after falling 40ft (12m) on a Pembrokeshire cliff.
Coastguards said the two men from County Durham, aged 46 and 27, were not actually climbing at the time but fixtures in the rock face are thought to have failed.
It happened near Newton Head, St Govan's, at 13:10 BST.
One was airlifted by RAF helicopter to hospital in Swansea; the other was taken to hospital in Haverfordwest.
The men from Sedgefield were practising on Sunday for a mountaineering qualification due to be taken later in the year.
In addition to the rescue helicopter from Chivenor in Devon, coastguard rescue teams from Tenby, St Govan's and Manorbier were involved.
Milford Haven coastguard said the 46-year-old man suffered back and ankle injuries whilst the 27-year-old man suffered cuts and bruises.