Powerboat owner plucked from sea off St Anne's Head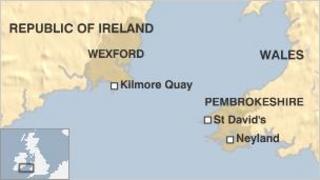 A powerboat owner has been safely plucked from the sea after three hours in the water off the coast of Pembrokeshire.
The man had 'bounced' overboard during a solo crossing from Wales to the Republic of Ireland.
An emergency personal locator beacon (PLB) had relayed a position off St Anne's Head to rescuers.
The owner, believed to be from north-east England, was on the way to take part in the Round Ireland Challenge.
Falmouth coastguards had alerted Milford Haven coastguards after receiving an alert from the PLB via satellite just after 16:00 BST.
The beacon gave a position of 9 miles south south west of St Anne's Head.
Mayday
Coastguards said the beacon was linked to the owner of a Gemini Waverider rigid inflatable boat called Merlin.
He had set off earlier from Neyland to cross to Kilmore Quay in County Wexford, Ireland.
The rescue involved St David's all-weather RNLI lifeboat and an RAF Sea King helicopter from Chivenor in Devon.
A number of boats also responded to a mayday, including the passenger ferries Stena Europe and the Isle of Inishmore, which diverted to the area.
The crew of the RAF helicopter located the boat owner in the sea 300 metres from his boat.
The craft had been fitted with a 'kill-cord' which had cut the engine when he fell overboard - but the owner had been unable to get back into the boat.
He was in the water for around three hours.
Rescuers said he was fortunately wearing an immersion survival suit and a lifejacket and was found to be unharmed when he was winched aboard the helicopter.
Milford Haven coastguards said the owner said he was determined to press on and continue his journey but they were able to persuade the owner to return to the Welsh coast.
Coastguards said they were pleased that the boat owner was well equipped as there has been a call for boat owners to fit kill cords.
They added that the locator beam may well have saved his life.