Honesty box theft caught on CCTV in Rhossili, near Swansea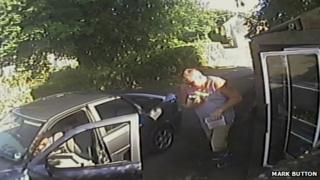 A thief has been caught on camera stealing an honesty box from a stall near a Gower beach.
CCTV captures the man getting out of a car and taking some cans from a fridge along with the box containing about £20.
The stall with fridge was set up three years ago by Mark Button outside his farm near Rhossili.
It sells home-grown vegetables along with ice creams and drinks at cost price with people leaving money.
"99.9% of people love it," he said. "You get the odd bit of theft but it's not a huge amount."
Mr Button said the cameras were installed after his farm at Mewslade Bay was burgled last year, and caught the incident on Saturday.
"We caught this car driving up and they checked the box out," he added. "It was only about £20 and five cans of drink but one person has spoilt it for everybody."
Mr Button posted the video on Facebook and informed the police but said he has had lots of people offering to help find the culprit after the posting received hundreds of "likes".
He added that he is not the only resident nearby to have an honesty box stolen recently but his stall would continue to operate.
"This won't stop. This is a service I offer to people."
A spokesman for South Wales Police said: "Officers are currently investigating the theft of an honesty box from a site close to Mewslade Bay, on the Gower, which happened at about 5pm on Saturday 20 July."
"CCTV images were obtained of a vehicle and persons which are currently being examined by officers in an effort to identify those responsible."