Llanelli's North Dock to become summer wakeboard centre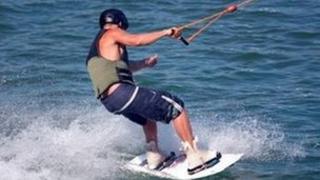 Planners have given the go ahead for a wakeboard sports facility at Llanelli's North Dock in Carmarthenshire.
Matthew Smith, of Go Wake, said he hopes to have the Llanelli site ready for next year as permission has come too late to capitalise on this summer's heatwave.
Meanwhile, Cardiff Bay Wakeboarding plans to create a new site at Cardiff's East Bute Dock.
Wakeboarders are pulled over the water via a cable while riding on a board.
Mr Smith, a Gower-based kite-surfing and board paddling instructor, said water sports have been growing in popularity in recent years as they have become more accessible.
He said he plans to operate a cable system which is manually controlled by instructors and allows beginners to restart if they fall off.
Other systems are automated and users have to swim back if they let go of the cable.
'First time'
"It's easy to use," said Mr Smith, who ran a similar service at Swansea in 2010 but was unable to make it a permanent fixture.
Cardiff Bay Wakeboarding continues its work to set up a new site at the East Bute Dock after its plans were approved in principle earlier this year.
In north Wales, Colwyn Bay council opened its new £5m Porth Eirias water sports centre on the beach front in May.
And Denbighshire council has been investing in Rhyl's Marine Lake to provide more water sports, hosting its first triathlon earlier this summer, as well as developing Rhyl Harbour front.
In Llanelli, the dock is already used by local groups and is the focal point for big events including its own triathlon.
Carmarthenshire council's planning committee approved plans for Mr Smith to provide wakeboard facilities for three years between the April and October with the installation of two 7m (22ft) removable towers, ground anchors and cabling.
"This is the first time something like this has been done at North Dock," said Robert Davies, council development management officer.