Three Swansea pupils in salmonella outbreak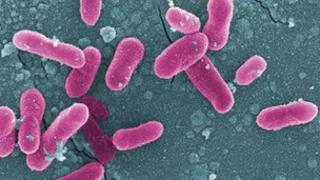 Three pupils from the same school have been diagnosed with salmonella in an outbreak in Swansea.
The children attend Ysgol Gynradd Gymraeg Bryn-y-Mor in Swansea but the source of the illness has not been identified.
The food poisoning can last up to seven days and can be serious for young people, the elderly and those with a poor immune system.
Public Health Wales is investigating the outbreak.
The three pupils are said to be recovering at home.
Public Health Wales said salmonella was usually contracted by eating food such as red and white meats, raw eggs, milk and other dairy products which contain the bacterium.
Dr Mac Walapu, consultant in public health from Public Health Wales, said: "Infection with salmonella can cause diarrhoea, stomach cramps, vomiting and fever.
"Although it is an unpleasant illness, people who become ill with salmonella generally make a full recovery.
"We are working with environmental health officers and the school to investigate the possible cause for the outbreak."
GPs in the Swansea area have been told about the outbreak and about possible cases of diarrhoea or vomiting in people who have connections with the school.
'Disinfected'
Public Health Wales said careful hand washing would help prevent cases of diarrhoea and vomiting from spreading.
But it advised people not to share towels and to use gloves when handling soiled articles from people who are ill.
Soiled clothing and bed linen should be washed on a hot cycle, while toilet seats, flush handles, wash-hand basin taps and toilet door handles should be disinfected daily and after use.
Anyone who is unwell with gastrointestinal symptoms is advised to contact their GP or NHS Direct on 0845 46 47.