Swimming warning after Tenby holidaymaker rescued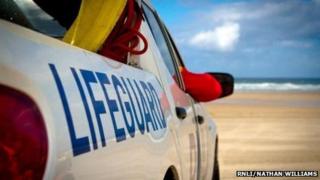 The RNLI has warned of the dangers of swimming in the sea outside safety flags after a holidaymaker had to be rescued in Pembrokeshire.
The 35-year-old man from Cheshire was swept 100m out to sea off Tenby South beach in strong currents on Wednesday.
He was rescued by RNLI lifeguard Nicola O'Toole, who had spotted him in trouble.
The RNLI said: "We advise everyone to stay between the red and yellow flags when swimming in the sea".
The man had found himself in deeper water and out of his depth at 16:10 BST before he was reached by the lifeguard on her rescue board.
Lifeguard manager Stuart Thompson said: "Fortunately Nicola spotted the gentleman and was able to assist immediately and bring him safely back to shore."