Urdd Eisteddfod: MMR plea as Pembrokeshire festival starts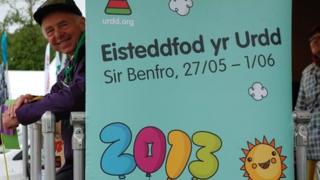 More than 16,000 people have turned up for the first day of the Urdd Eisteddfod in Pembrokeshire.
However, Monday's attendance of 16,689 at the cultural festival for the young was over 7,000 below last year's first day, as forecast heavy rain arrived.
It hopes to attract as many as 100,000 visitors during the week to this year's event at Cilwendeg, south of Cardigan.
Organisers have also asked parents to ensure children have received MMR jabs after the Swansea measles epidemic.
More than 15,000 children will compete in events during the week.
The eisteddfod has been more than two years in the planning, with local committees of volunteers raising more than £270,000 towards the cost of hosting the festival.
The county last held the event in 1995, and Emyr Phillips, who chairs the local committees, said they were looking forward to a great week, with the whole area getting into the festival spirit and decorating towns and villages with bunting.
"Over the last week or two, the bunting has been flying out of our shop," he said.
"All the villages around and down as far as Milford, Haverfordwest and Fishguard - everyone wants to join in the fun with us.
"I'm not worried about anything - I think we will have a wonderful week."
The start of last year's festival was marred by long traffic delays as visitors made their way to the event outside Caernarfon in Gwynedd
But this year organisers have ensured that there are three different approaches and entrances for the eisteddfod field, or maes in Welsh.
"I'm sure there will be some delays - but not as much as we had last year," added Mr Phillips.
Future development
As well as competitions in music, singing, dance, drama, literature and poetry, this year sees the Urdd festival hold discussions on how it should develop in the future.
The body's development group will be holding a meeting to discuss the subject on the opening day on the maes.
This year's eisteddfod is also being held as the measles epidemic focused on Swansea and Neath Port Talbot finally appears to have reached a peak.
More than 1,300 cases of the disease have been reported across four health board areas covering south west and mid Wales.
In April, Urdd chief executive Efa Gruffudd Jones stressed that organisers were in constant contact with Public Health Wales to discuss the best way of advising visitors.
The festival's home website also carries a prominent warning to parents to ensure that their children have been given the MMR vaccine.
There is full coverage of this year's festival on the BBC online, on Radio Cymru, and on S4C.