Swansea stabbings: Life sentence for attacks in 'wrong house'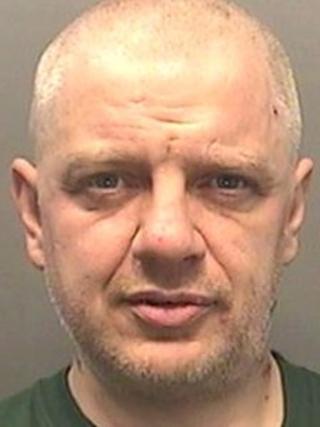 A 44-year-old man has been jailed for life after he stabbed three members of a family at a New Year's Eve party in Swansea.
Swansea Crown Court heard that Michael Mathews did not know the victims and was later heard to utter to one of them: "Sorry, wrong house."
The court also heard one victim sustained a stab wound so severe his bowel and intestine protruded from it.
Mathews, of Swansea, pleaded guilty to three counts of wounding with intent.
He was told he would spend a minimum of five years in custody before his case could be considered by the parole board.
Geraint Walters, prosecuting, told the court that on New Year's Eve 2012, the victims had all been together at a party.
He said that just after 3am on New Year's Day, Mathews turned up at the address and kicked open a back gate.
'Stabbed in back'
The first victim of the attack, Christian Strawbridge, heard the gate open and went out to see what the noise was.
The court heard that Mr Strawbridge asked the defendant what the problem was and Mathews "produced a knife and proceeded to stab Christian to the right thigh".
After he ran off, Andrew Strawbridge went outside and he was also stabbed, twice in the stomach and once in the leg, by Mathews.
Mr Walters said one of the blows to the victim's stomach was so severe that it caused Mr Strawbridge's bowel and intestine to protrude from the wound.
He said the third victim, Catherine Strawbridge, went out to get between the men.
"For her trouble she was stabbed in the back" by the defendant once, said Mr Walters.
'Scared and haunted'
The court heard Mathews then ran away and was pursued by others but "ultimately they retreated" when they confronted him as he still had the knife with him.
Christian Strawbridge later said Mathews had told him "I am going to kill you all" but used the name "Jay".
Mr Walters said Catherine Strawbridge had also heard Mathews utter "sorry, wrong house" after he had stabbed the three victims.
The court heard that the stabbings had left the victims "scared" and "haunted".
Huw Rees, defending, said Mathews, of Mayhill, Swansea, had no recollection of what occurred in the garden of the Strawbridge family on New Year's Day.
He added that Mathews had no understanding why he had committed the offences.
The court heard that among Mathews' previous convictions was an offence of false imprisonment in 1995 when he kept people at an address against their will and threatened them with a large piece of wood.
'Dangerous individual'
He was also awaiting sentence for an offence of criminal damage when he committed the New Year stabbings.
The court was told a psychiatrist said Mathews "continues to present as a dangerous individual".
Judge Keith Thomas said Mathews had used "random violence to people who had done nothing to" him.
For the wounding with intent offences, he gave Mathews a life sentence and said he would spend a minimum of five years in custody before his case could be considered by the parole board.
For the criminal damage matters, he was given two months imprisonment.