Pembroke firm Mustang Marine to create 100 boat building jobs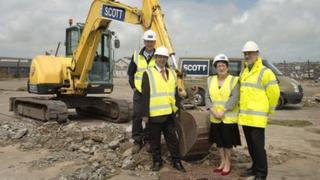 More than 100 new jobs are set to be created with the £1.5m expansion of a boat building company in Pembrokeshire.
Mustang Marine, which also repairs boats, is constructing a new boat building hall in Pembroke Port, and plans to double its workforce.
The company said it came after growing demand from around the world.
Funding comes from the Port of Milford Haven, which owns Pembroke Port. It is the first major investment in the Haven Waterway Enterprise Zone.
Mustang Marine managing director Kevin Lewis said the investment was "fantastic news for the local economy".
"Once these buildings are completed we expect to at least double the number of jobs from the more than one hundred skilled men and women we have here today," he said.
Alec Don, chief executive of the Port of Milford Haven, said the company, which has had customers in China and Africa, was a "world leader".
"They are exactly the kind of business this port needs and we are keen to help them develop and grow their business," he added.
'Job opportunities'
Mr Don said he hoped the expansion would prompt renewable energy firms to use the facilities at Pembroke Port, which is part of the Welsh government's Haven Waterway Enterprise Zone.
Jane Phillips, mayor of Pembroke Dock, said: "The creation of job opportunities is exactly what we need to get the economy moving again and regenerate the town."
The investment by the Port of Milford Haven is part of a programme aimed at boosting economic activity and jobs in the local area.
Mustang Marine's expansion is said to be the most ambitious part of a phased development in the historic former Royal Dockyard.
In its 200 year history, it has launched five Royal Yachts and more than 200 Royal Navy vessels.