Eurovision: Bonnie Tyler party to be held in Swansea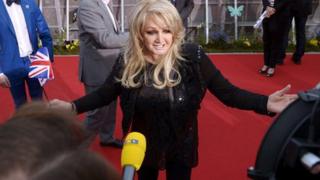 Bonnie Tyler's bid for Eurovision glory will be celebrated in Swansea with an open air party and live relay of the contest.
Swansea council hopes hundreds of people will gather to watch the Neath-born singer on the big screen in Castle Square on Saturday night.
Tyler will perform Believe in Me in Malmo, Sweden, for an estimated TV audience of 120 million viewers.
The singer, 61, is best known for her 1983 hit Total Eclipse of the Heart.
Entertainment in Castle Square is due to start at 18:30 BST with competitions.
A street dance group called I Dance will perform routines to famous Eurovision tracks from the past followed by Bonnie Tyler tribute act Chloe Hopper.
The Eurovision Song Contest will be shown live on the big screen at 20:00 BST.
Nick Bradley, Swansea's cabinet member for regeneration, said the council was keen to celebrate Tyler's presence in the contest.
"She's a proud local girl who went onto superstardom, so I'd encourage people to flock to Castle Square, let their hair down and enjoy what's going to be a night to remember.
"There should be a fantastic atmosphere. The stage that's being set up just for the evening will be decorated with bunting, Welsh flags, British flags and European flags, so let's get behind Bonnie and hope she brings the Eurovision title back to the UK."
The UK entry for the 58th Eurovision Song Contest was written by American songwriter Desmond Child with British songwriters Lauren Christy and Christopher Braide.
Last year's entry, Love Will Set You Free by Engelbert Humperdinck, finished second to last with just 12 points.
Tyler is the first Welsh act to represent the UK at Eurovision since James Fox in 2004, whose song, Hold On to Our Love, finished in 16th place.
The UK last won the contest in 1997 when Katrina and the Waves performed Love Shine a Light.