South Wales Police pay £20,000 compensation after pursuit crash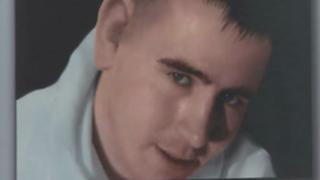 The family of a man who died after crashing into a wall following a police pursuit have been awarded £20,000 compensation from South Wales Police.
Lee Lewis, 22, suffered multiple injuries when he crashed into a stone wall in Margam, Port Talbot, in 2008.
Five officers were given written warnings for misconduct in 2009 after disobeying orders from their control room to stop pursuing Mr Lewis.
South Wales Police said lessons had been learnt from the incident.
But the family, who were awarded compensation in an out-of-court settlement after a civil claim for negligence, told BBC Wales that this did not minimise their frustration at the way the case was handled.
Mr Lewis died 12 days after the crash in Morriston Hospital, Swansea, in May 2008, after developing blood poisoning.
Five officers were given written warnings for misconduct in 2009 after an investigation by the Independent Police Complaints Commission (IPCC).
It concluded they had committed disciplinary offences by disobeying orders from their control room to stop pursuing Mr Lewis, who had been seen driving without lights.
South Wales Police says it has learnt lessons from the incident and taken on board all the IPCC's recommendations.
The IPCC investigation concluded that none of the officers were qualified to take part in pursuit driving and that some had denied understanding the meaning of the term "stand down".
They were found to have given inaccurate information about their speeds until "black box" recorder devices from their vehicles established they were doing nearly 90mph at times.
An inquest into Mr Lewis's death in January last year found that he lost control of the Ford Fiesta he was driving - which he was said to have taken without consent from his girlfriend's mother - while attempting to turn into a service entrance at Margam Park.
The inquest found that the police officers who had pursued him did not have sight of the car at the time of the crash and that Mr Lewis was not wearing a seatbelt.
The jury recorded a narrative verdict.
'Ruined'
Peter Howells, Mr Lewis's grandfather, has called for the case to be reviewed and spoken of his frustration at the sanctions issued to the officers involved.
He added that the compensation - in the name of Mr Lewis's son Iestyn, now aged seven - did not go far enough.
"They didn't even get a speeding fine… they've had nothing, just a slap on the wrist - this isn't justice," said Mr Howells.
"When you think that one policeman had £8,000 for a flea bite. Lee's in the ground, he's gone.
"Until you've actually been through it I don't think you can understand. He was a young man, he had a young baby, and it's ruined our lives."
Describing his grandson as a "loveable rogue," Mr Howells added: "All I can do is try to put right the wrongs."
'Learning process'
Aberavon MP Dr Hywel Francis is supporting Mr Howells' call for a fresh look at how the case was handled by South Wales Police.
He has recently met with South Wales Police and Crime Commissioner Alun Michael and is urging him to agree to Mr Howells' request for a meeting.
He said: "Both the family and I would like to ensure that Mr Michael looks into the case to ensure that proper processes and procedures were followed by South Wales Police following the sad death of Lee Lewis.
"I need to have clarification on that, the family needs to be reassured, as I do, that lessons have been learnt and procedures that were followed at the time are no longer in place and that there's been a learning process by the whole of South Wales Police."
Mr Michael said in a statement that, having reviewed the case with senior officers, he was "satisfied with the thoroughness of the investigation".
"I feel great sympathy for the family of Lee Lewis. While I understand the family's position, I can see no grounds for further action in this case."
A spokesman for the IPCC said that police pursuit guidelines had been enshrined in law since the incident and that "this will go a long way to ensuring that police pursuits are carried out correctly".