HMS Scott docks in Swansea for five-day visit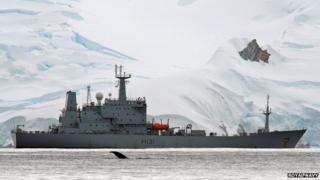 The Royal Navy survey vessel HMS Scott has docked in her adopted city of Swansea for the first time in seven years.
The ship will spend five days in port after returning to the UK from three months in the Red Sea and Gulf of Aden.
Members of the crew attended a civic reception as guests of Swansea council on Wednesday night.
Schoolchildren will take a tour of the ship on Thursday and it opens to members of the public on Saturday.
HMS Scott is the Royal Navy's only ocean survey vessel and at 13,500 tonnes it is the fleet's fifth largest ship.
Named after the Antarctic explorer Captain Scott, it has a crew of 78 and was commissioned in June 1998.
A number of events are planned by the ship's company over the next few days.
Swansea University's marine biosciences department and children from Pentrehafod School and Bishopston School will visit the ship on Thursday.
On Friday, a 12-strong guard, as well as the ship's commanding officer Commander Patrick Mowatt, have been invited to be part of the mayor's inauguration ceremony at Brangwyn Hall when councillor June Stanton will be sworn is as the city's new Lord Mayor.
Sea bed
Local sea cadets will tour HMS Scott on Saturday morning before she opens to members of the public between 11:00 and 16:00 BST.
"Our ties with Swansea are very special to us," said Cmdr Mowatt.
"The city's council and people show us great support and it is a pleasure to be able to bring the ship in to the port once more to allow us to do a little something in return."
HMS Scott has been specially designed to carry the modern high resolution multi beam sonar system, which is capable of gathering information over a strip of the sea bed several kilometres wide.