Measles epidemic: Swansea City FC players top up MMR vaccinations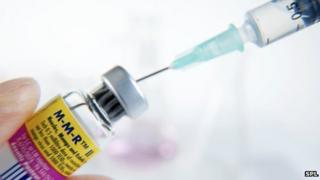 Swansea City players have topped up their MMR vaccinations prompted by the measles epidemic.
Public Health Wales says the number of cases in the outbreak focused on the city has passed 1,000. About 5,000 youngsters still needing vaccinating.
The Premier League football club said it is taking no chances with the multi-million pound squad and have given MMR booster jabs to some players.
However, it would not say which players had had the vaccine.
A spokesman said: "Given that the club is in the outbreak zone, we had a thorough check of which players had not received their second jabs.
"We're not in a position to say who or how many received the inoculation, but I can confirm that all players and officials in the club are now up to date.
"Similar measures have been rolled out to youth players and letters have also been sent out to parents reminding them of the situation."
Eighty four people have been treated in hospital since the outbreak began last November while a vaccination programme has been running in schools and hospitals with 4,000 receiving the MMR jab in the last month.
A total of 811 measles cases have been recorded in the Abertawe Bro Morgannwg health board region, based in Swansea.
Several first team players live in Swansea.
Swansea captain Garry Monk has urged parents to have their children vaccinated after revealing his two-year-old daughter has also had the MMR jab.
"You should make sure you do everything you can to give your children the best chance.
"Getting them vaccinated is one way forward which I would encourage."