Port Talbot shopping centre 'newsroom' for paper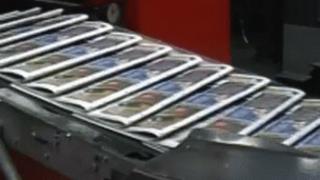 A temporary 'pop-up' newsroom is being held in a shopping centre to encourage residents to provide stories for a new local newspaper.
People in Port Talbot are being asked to help re-establish a paper in the town more than three years after their local weekly closed down.
The free monthly paper will be produced by staff from the Port Talbot Magnet website.
Journalists will be seeking stories at Aberafan Shopping Centre on Saturday.
Rachel Howells, director of the Port Talbot Magnet, said the town deserved a local newspaper.
"We've always thought, why should a town with so much to offer be without its own local paper?
"We felt now was the right time to bring a printed newspaper back to Port Talbot and we are looking for local people to be at the heart of it."
Journalists from the Port Talbot Magnet, set up following the closure of the Port Talbot Guardian in 2009, have teamed up with Cardiff University for the project.
A mobile phone app has been developed specifically for residents to easily share their stories with the journalists.
The team will also be setting out their stall at Aberafan Shopping Centre on Saturday to encourage members of the public to contribute their news, information, photographs and local history knowledge.
"We hope local people will take the chance to make this newspaper their own," added Ms Howells.
"We know it will be a huge benefit to the town and we want to ensure everyone has a voice in it."
The first issue of the new newspaper will be a pilot edition to be printed at the end of April.
The event comes as many newspapers in Wales continue to suffer from staffing and financial cuts and falling circulation figures.