Asian families burglary spate targets Indian gold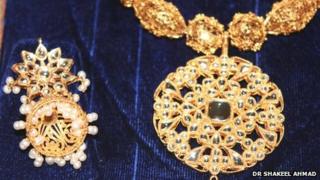 Asian families claim they are being targeted for their Indian gold following a spate of burglaries in Cardiff.
Some victims say it is too much of a coincidence that jewellery has been taken during a series of raids.
Dr Shakeel Ahmad believes, like him, a number of Asian families have been targeted for gold on his street in Cyncoed. His sister was also burgled.
Two people arrested on suspicion of burglary have been released on bail.
Police say they do not believe the burglaries are linked.
But Dr Ahmad, who is a hospital consultant, says he believes Asian people are being targeted for their expensive jewels, which are worth tens of thousands of pounds.
"If you look at the recent burglaries suddenly, it's Asian households," he said.
"I think it's because the community has a tendency to wear gold and things like that for weddings and with the price of gold going through the roof, criminals can go into houses and think they can find it.
"My parents live around the corner from here and I've been brought up in the area.
"I've never known anything like this or feel fearful of crimes and in the last couple of months there's been a crime wave."
Dr Ahmad says he works from home sometimes but the culprits "seemed to know" when the house would be empty.
The burglary took place in the middle of the afternoon last week when burglars smashed their way through the patio window.
"I've been clearing my house up," he added. "The burglars went through everything they could find in the house - everything was ransacked, including the children's toys."
He said sapphire gold rings, sapphire earrings and a ruby gold chain were stolen - items that have been passed down through family generations.
But other valuable items like laptops and tablet computers were left behind.
"I don't know yet how much was worth, but I know it is tens of thousands of pounds," said Dr Ahmad.
He was burgled last Tuesday and his sister on Friday, 8 March while another family was burgled 24 hours later.
His brother-in-law Taj Hasan, who is also a hospital consultant, said jewellery worth up to £90,000 was stolen from his home, which is on the same street as Dr Ahmad.
He said he too believed his family had been targeted for their gold, as his family's electrical goods were left during the raid.
"I suspect they must have got a profile of us, they must have followed us to know when we were in work and when we came home," he said.
"It's left us feeling shocked, worried and very vulnerable. My 10-year-old daughter has been having nightmares."
South Wales Police said two men, aged 20 and 18 from Rumney in Cardiff, have been arrested on suspicion of a burglary in Cyncoed Road, Cyncoed, Cardiff.
They were arrested on Friday, 15 March and have been released on bail pending further inquiries.
The force urged members of the public to take extra measures to ensure expensive and sentimental items of jewellery are kept safe.