Protest opposes Gorseinon traveller site plan for Swansea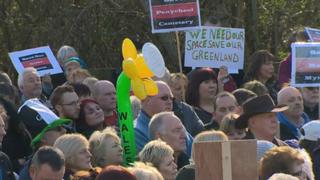 Hundreds of people have gathered to oppose plans for a new permanent traveller site at Gorseinon in Swansea.
The city's only permanent site is full and Swansea council is required to find more space.
There are five possible sites under consideration, including two in Gorseinon and others at Cockett, Llansamlet and Penderry.
The council said there were gypsy and traveller families in the city unable to access "proper facilities".
The council's public consultation on the issue finishes at the end of March.
Around 300 to 400 people staged a protest on Sunday against using either Gorseinon location - Parc Melyn Mynach and Heol-y-Mynydd.
Helen Davies, chair of a Gorseinon residents' group opposing the plans, said: "We wanted to show the people of Swansea we are united as a community.
"We're very proud of our culture and our heritage and we want to save Melyn Mynach. We want to keep it as a park, we want to save the green space.
"We've got a community which in 2010 was over 19,000 and it's grown significantly since then and it's the only green space left. We want to work to preserve this."
She said the nearby Heol-y-Mynydd site was also not acceptable because it was earmarked as a cemetery.
"What we're looking at here are areas that Gorseinon as a community needs and they are areas that we want to preserve for their true purpose," she said.
The Welsh government has asked all local authorities in Wales to look at the needs of gypsies and travellers as part of its assessment of accommodation requirements.
'Suitable location'
There is currently only one legal gypsy and traveller site in Swansea, at Pantyblawd Road, which the council said had been "fully subscribed for some time".
The council has also faced protests against another of its suggested sites, in Llansamlet, where thousands signed a petition.
Martin Saville, the council's head of public protection, said: "A number of gypsy and traveller families have lived in Swansea for quite some time without proper facilities for themselves and their children.
"We need to look at finding a suitable location to create a second legal site.
"The consultation currently under way will give residents every opportunity to give their views on the entire process used to assess potential sites."