Michael Maguire gun range death 'rare and isolated' case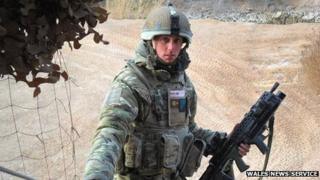 The death of a soldier from a stray bullet at a firing range was a "rare and isolated tragic incident", the Pembrokeshire Coast National Park Authority (PCNPA) says.
Ranger Michael Maguire, 21, of 1st Battalion, The Royal Irish Regiment, was hit in the head as he stood in a "safe" area at Castlemartin.
An inquest jury returned a verdict of unlawful killing on Tuesday.
PCNPA said it held talks with the MoD following the verdict.
Tegryn Jones, PCNPA chief executive, said: "Discussions have been held between representatives of the Ministry of Defence and the park authority following the findings of the inquest into the death of a soldier on the Castlemartin range.
"We have worked closely with the MoD over the years regarding the management of this important part of the national park and following the meeting we remain confident that this was a rare and isolated tragic incident.
"We will continue to liaise with the MoD in terms of future management and access to the range, which is located on one of the park's most iconic stretches of coastline, visited and enjoyed by hundreds of thousands of people every year."
The Cardiff inquest heard ranger Maguire, from County Cork, Ireland, was killed by a machine gun round probably fired from 0.6 miles (1km) away.
He was in a field 1km away from the action zone in an area where soldiers eat their lunch when he was shot and killed in May 2012.
He was not wearing his protective helmet and armour.
An Army weapons expert said safety failures meant a gunner shooting at a target was not firing out to sea.
Evidence suggests he was hit by a fellow soldier who was firing a machine gun at a stationary target.
The jury also heard evidence suggesting that civilians who may have been relaxing at nearby Freshwater West beach, 1.6 miles (2.5km) to the north west, were also at risk of being hit.