Swansea Bay tidal power: Images of £650m plan unveiled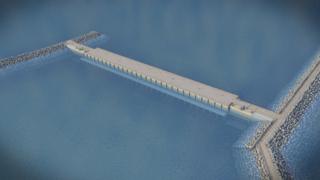 A firm behind proposals for a £650m tidal lagoon in Swansea Bay have released more details of its plans and photographs of what it could look like.
Tidal Lagoon Swansea Bay Ltd said the scheme could generate 450,000 MWh per year - enough to supply 107,000 homes.
It hopes to submit a planning application in October and the lagoon could be working as soon as 2017.
Two phases of consultation are planned, with the first in June and July and a second expected after the application.
The planned lagoon, which would take about two years to build, would comprise an impounding "breakwater or seawall" of about 10.5km (6.5 miles) in length, and capable of holding 11 square kms (4 sq miles) of water.
It would hold on to water and then let it out through turbines at both high and low tides which would generate electricity.
At low tide, water would flow from the lagoon into the sea, and from the sea into the lagoon at high tide.
But its size - over 100 megawatts - means its future will be decided by the UK government.
Alex Herbert, head of planning for Tidal Lagoon Swansea Bay Ltd, said: "It will be the first purpose-built tidal lagoon in the world.
"We are still refining the layout, but we estimate the lagoon wall will be 10.5km long and enclose 11km sq of water.
"We also believe very strongly in the additional benefits it will bring. It will allow people to participate in or watch sport or people can walk or cycle along the wall.
"Two public consultations are planned - one in June and July and the second after the planning application has been submitted."
He said power cables would carry the energy from the lagoon to the national Grid in Baglan.
The lagoon will broadly encompass the coast between Mumbles Head in Swansea and Port Talbot.
There are also plans for an offshore visitor centre.
Plans for tidal power in Swansea Bay were first mooted in 2003 when a charity wanted to harness the tides to provide electricity for up to 10,000 homes.
In 2006, a firm called Tidal Electric Ltd put forward proposals to take the project on, but that has since been put on hold.
Now Tidal Lagoon Swansea Bay believes it can bring the project to reality.
Should the proposals go ahead, it is estimated the lifespan of the lagoon would be 100 years.