Rhossili Bay top beach vote stuns Australian travel writer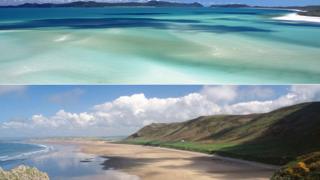 If you want to annoy an Australian, then suggest that their country's beaches might not quite compare with a corner in "old" south Wales.
Rhossili Bay on the Gower peninsula was named in the top 10 in the world's best beaches in a survey of tourists by the TripAdvisor website.
But a travel writer for The Australian couldn't quite believe a "mud-coloured" beach near Swansea was more popular than some of his country's sun-baked shores.
Anthony Sharwood, in an article for the website, said it was an "insult" although admits Rhossili has charm but a blanket and flask were needed to stay warm.
He told BBC Wales: "A real beach has white sand or gold sand, come on.
"The first thing a beach has to be is warm. The water has to be warm, the air has to be warm."
Rhossili Bay is a three-mile (4km) stretch of sand within an area designated as the first Area of Outstanding Natural Beauty in the UK and has featured in Wales tourism adverts.
Mr Sharwood said it was unfair that only one of his country's beaches, Whitehaven in Queensland, made it into the world's best beach guide alongside Rhossili Bay.
The Welsh beach was voted third in the list of best European beaches beaten only by Rabbit Beach at Lampedusa, Sicily, and Playa de las Catedrales in Ribadeo, Galicia, Spain.
Hills and pasties
"I spent the summer on the beach with my kids. It was 30 degrees, like baby bear's porridge, it was just right. That's what a beach should be," said Mr Sharwood.
Of Rhossili, he said had not visited but said from photographs it looked like "a lovely place to visit, grab a Thermos of tea and throw a blanket over yourself".
He said he was won over by some of its charm thanks to the owners of the Worm's Head Hotel in Rhossili who, in a phone chat, had described to him its green hills and warm pasties.
"I believe it is a lovely place but I just think to put it ahead of so many other beaches in Australia is possibly a little ambitious," said Mr Sharwood.
Rhossili has Worm's Head at one end - a small tidal island and the most westerly tip of Gower - and on the other there is the other small tidal island of Burry Holms.
Along the beach is a sole building - the Old Rectory, an old house dating to the 1850s which is now owned by the National Trust - and a ship wreck can be seen on the sand at low tide.
Adrian Short, who was born and brought up on Gower and has owned the Worm's Head Hotel in Rhossili for over a decade, said the beach was "dramatic" and always surprised first-time visitors.
He said while the Australians can talk of palm trees, and glistening waters, Rhossili also had natural charms as it has been officially recognised as an area of outstanding nature beauty.
"There is something for everyone," he said, adding that it was popular with surfers, walkers and artists due to its "ever-changing" light.
"Rhossili is rigorously protected and a very dramatic scene," he said. "The conditions are great for surfing."
The bay was one of three UK beaches that made the top 10 European list, joining Woolacombe Beach in Devon in fifth, with Porthminster Beach at St Ives in ninth.