Capital One Cup: Victory parade for triumphant Swansea City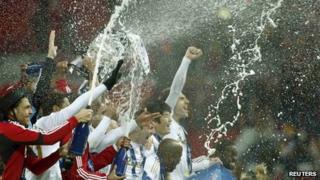 Swansea City's record-breaking win in the Capital One Cup final is to be celebrated with a victory parade through their home city.
The Premier League team swept to a 5-0 win over League Two Bradford City in their centenary year.
It gave them their first major cup trophy and a place in Europe.
The open-top bus parade through Swansea will take place on Tuesday followed by a reception at the Guildhall.
Swansea's Lord Mayor Dennis James said the people of Swansea would turn out in their thousands to welcome the team home.
'Superb'
"This is a fantastic moment for the Swans and for Swansea as a whole," he said.
"After their promotion to the Premier League, Sunday's events open a new chapter in a remarkable success story for our city's football team.
The parade will start outside the Dragon Hotel in Kingsway, Swansea at 16:30 GMT on Tuesday. It will make its way down Kingsway before moving along St Helen's Road and finish at the Guildhall.
Congratulations to the Swans for their victory, the biggest in League Cup history, have flooded in.
Among them, First Minister Carwyn Jones tweeted: "Superb #CapitalOneCup win for the Swans - their first major trophy! Well done! Europe awaits!"
Swansea-born actress Catherine Zeta Jones was at the Oscars in Los Angeles but got up early to watch the match.
"It was one of the best things to happen today," she told BBC Radio Five Live.
Safety barriers
Swansea council leader David Phillips said: "The past few years have been a footballing fairy story for the Swans."
He said they had pulled out all the stops to get the victory parade organised as quickly as possible after Sunday's final.
"We hope everyone who comes along has a great time, but the safety of the participants and the public is paramount.
"For this reason, we would ask all spectators to stay behind the safety barriers and follow any instructions that they may get from the safety stewards."
The council said there will be road closures along the route on a rolling basis to minimise disruption and stewards will be marshalling fans and ensuring the safety of the procession.
Nick Bradley, Swansea council's cabinet member for regeneration, said: "I'd urge the people of Swansea and Swans fans from elsewhere in south Wales to line the parade route.
"The parade will give us a chance to thank Michael Laudrup and his fantastic team for their terrific achievements that keep raising our city's profile even further across the world."