114 Dewhirst warehouse jobs under threat at Capel Hendre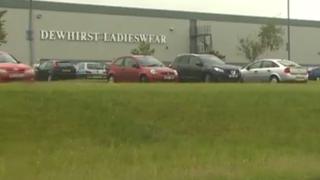 One hundred and fourteen jobs are under threat at a Carmarthenshire warehouse storing clothes for Marks and Spencer.
Dewhirst has a warehouse unit in Capel Hendre, near Ammanford, where products made abroad are stored and checked before being sent to shops.
A 90-day consultation is beginning with the workforce on Friday but Dewhirst said no jobs would go before October.
In a statement, Marks and Spencer said it would be inappropriate to comment at present.
Paul Hollins, operations director for ladieswear at Dewhirst, said the move was necessary because Marks and Spencer no longer needed to use the warehouse for storage.
But he said they were looking for other businesses to take Marks and Spencer's place to avoid redundancies if possible.
'Early warning'
"We're starting the consultation as soon as possible to see if we can find another organisation that requires the storage facility," Mr Hollins said.
No redundancies would take place before October, he added.
There was an "early warning" of possible redundancies last summer when the warehouse which opened in 1997 was put under threat. At one stage, Dewhirst had five factories in Wales manufacturing clothes and employing about 1,000 people.
Marks and Spencer said: "Dewhirst's consultation about its Capel Hendre warehouse has just begun and as such it would be inappropriate for us to comment any further at this stage."
Plaid Cymru politicians Jonathan Edwards MP and Rhodri Glyn Thomas AM said the business needed assistance to market the facility to find a buyer for the Capel Hendre site.
Strategic location
"Our office has spoken with the Dewhirst director who is keen to promote the facility and find a potential buyer for the warehouse in order to secure in excess of 100 jobs and to keep the custom-built unit in operation," they said in a joint statement.
"The warehouse is ideal for new and emerging companies, especially online companies looking to store clothing in a specialist warehouse.
"Capel Hendre is the perfect strategic location for this business; with easy access to the main motorway network and a short drive away from the ports for exporting to Ireland.
They said they had pledged their full support to helping Dewhirst "during this difficult and uncertain period".
"In the meantime we have written to the Welsh government's minister for business and to the county council and have called on them to give their full support to secure the future of the facility and to safeguard employment in the area."