Honours: Son's memory prompts MBE for mother's charity work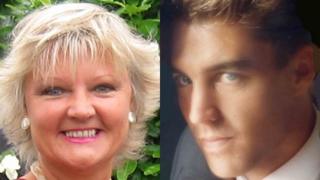 A woman who has continued her late son's charity work, raising £500,000 towards a cancer day care unit in Pembrokeshire, receives an MBE.
Christine Evans-Thomas was a head teacher in Haverfordwest when son Adam was diagnosed with leukaemia at 24.
Adam raised funds for Withybush Hospital until his death at age 35, when Mrs Evans-Thomas took up his work.
She launched the Bucketful of Hope appeal and says: "I will stay until I have finished my son's legacy."
The charity now runs its own patient help centre in Haverfordwest.
'Bowled over'
Mrs Evans-Thomas is nominated for her work to raise money to fund the new Pembrokeshire Bed on the new transplant unit at the University of Wales Hospital in Cardiff, and a cancer care day unit (CDU) at Withybush.
She said: "I thought it was a way of keeping him alive for me.
"There's something very warming about having his photograph on the wall and having his name spoken very day.
"I know he was mine but sometimes the actual disease changes people. It changed Adam. He became a very good listener and had a lovely temperament.
"He would sit with all age groups and never complain even when he was feeling at rock bottom."
She said she was "bowled over" with her honour.
"I think in many ways it's lovely for Adam to have the recognition. I know it's a bit late but it's more for him than for me," she said.
Mrs Evans-Thomas said she remains "frustrated" that the main aim of the appeal, the CDU, has still not been achieved due to changing plans for health service provision despite raising the six-figure sum.
She said: "We're sitting on this money because each year will be be told it would be next year or the next 18 months.
"I could have invested it in high interests bonds and actually grown it over eight years rather than have kept it in a bank account."
Mrs Evans-Thomas said the name of the appeal came from a patient's comment to Adam's doctor, Najma Saleem, who remarked that she gave a "thimbleful of bad news in a bucketful of hope".
Sporting heroes
Others honoured in south west Wales include former Glamorgan and England spin bowler Robert Croft. The Swansea-born star, who receives an MBE, retired from playing this year at the age of 42.
Ellie Simmonds, the Paralympic champion swimmer based in Swansea, receives an OBE, having received an MBC in 2009.
Virgina Prifti, a torcherbearer when the Olympic flame was carried through Wales ahead of the 2012 games, is given an MBE in recognition of her charity work.
Mrs Prifti, 54, from Llanmadoc, Swansea, founded Lawrence's Roundabout Well Appeal in 2006 to buy and install "PlayPumps," roundabouts over a borehole, so that when the children play it pumps up water into storage tanks for use by their community.
Her citation reads: "Her personal commitment has been an inspiration to both supporters and donors. The vision she has shown has inspired thousands of individuals and some businesses to contribute to improving the lives of hundreds of thousands of people they will never meet."
Another Haverfordest resident receiving a 2013 new year's honour is music teacher and choir leader Shirley Williams, who is awarded a British Empire Medal (BEM).
The 63-year-old, who trained as what is now the Royal Welsh College of Music and Drama in Cardiff has taught instrumental music and choral proficiency to children and adults for 40 years or so.
In 1969, she sang in the choir at the investiture of Prince Charles as Prince of Wales at Caernarfon Castle.
In 1980 she formed a junior choir in Pembrokeshire.
Her citation for the BEM reads: "Through her passionate and inspirational leadership this developed into three different choirs, the Landsker Singers (adults), Junior Landskers (teenagers) and Little Landskers (children).
"Her drive and determination have been instrumental in gaining all three choirs the respect and recognition they deserve."