Withybush hospital fighting to control diarrhoea and vomiting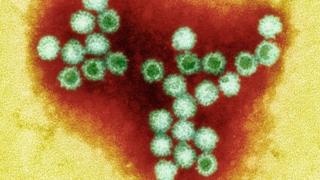 Withybush hospital is still fighting to control an outbreak of diarrhoea and vomiting which started last week.
Several wards at the hospital in Haverfordwest, Pembrokeshire, have been shut to admissions and visiting has been restricted.
Hywel Dda Health Board is asking relatives to phone medical staff to check patients' conditions.
Three wards were closed last week and some cases of norovirus were confirmed.
Norovirus causes vomiting, stomach cramps, fever and diarrhoea, and is easily spread from person to person.
A health board spokesperson said: "Withybush Hospital is currently experiencing a high incidence of diarrhoea and vomiting.
"The hospital has several wards closed to admissions as a result of diarrhoea and vomiting and is trying to prevent further areas becoming affected.
"In order to do this, visitors to all wards is being restricted.
"Visitors may not realise that they already have the virus as they have no symptoms."
The spokesperson said the virus was easily spread.
"The hospital is strongly advising people do not visit the hospital as this in the best interests of all patients and the staff caring for them," she added.