Clydach factory submits power from waste scheme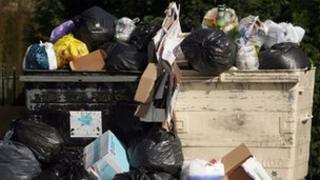 Swansea planners are to consider an application to generate electricity from waste at a Clydach factory.
Plans include using advanced conversion technology (ACT) to produce energy and heat at the Clydach Nickel Refinery.
A report says the site is owned by Vale Europe Ltd, which produces nickel, cobalt, copper and other metals.
It adds that thousands of tonnes of "refuse derived fuel" would be delivered to the site every day, by up to 10 heavy goods vehicles.
A report compiled by environmental consultants recommends the scheme be approved, subject to conditions.
The proposals include creating power using pyrolysis, which "allows for the thermal degradation of organic substance in the absence of oxygen".
The process would create a gas which could generate electricity to power the plant and be sold back to National Grid.
The plans also include extending and altering existing buildings, as well as the construction of a 41m (135ft) high chimney.