South Hook power station plan under consideration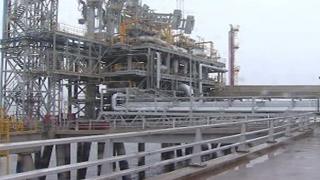 Plans for a new gas fired power station are under way in Pembrokeshire, with one site in the national park's boundaries being considered.
Qatar Petroleum, Exxon Mobil and Total Gas and Power Ventures want to build a 500MW combined heat and power (CHP) plant next to the South Hook LNG terminal near Milford Haven.
The other site considered is outside Pembrokeshire National Coast Park.
A spokesperson for the South Hook CHP Project said no decision had been made.
"At this stage in the potential development of the project, options remain under review," he said.
"Siting is one of a number of matters being studied and discussed with the relevant authorities.
"It is one element of the consultation process whereby the views of all stakeholders will be sought. It is therefore inappropriate at this stage to comment further," the spokesman said.
'Justified'
Vicky Hurst, head of development at the Pembrokeshire Coast National Park Authority (PCNPA), said a large scale project of this kind would have to be justified as being of "overriding public interest and national interest".
An application for the plant is expected to be submitted early next year to the planning inspectorate.
The PCNPA will be consulted as part of the process.
Environmental campaigners have called on the companies involved to use the most efficient technology available.
The South Hook terminal, the largest of its kind in Europe, opened in 2009 after six years of planning and construction.
RWe Npower is currently completing a 2,000MW gas-fired power station nearby in Pembroke.