Racist parents: Daughter Jane Champion's apology hopes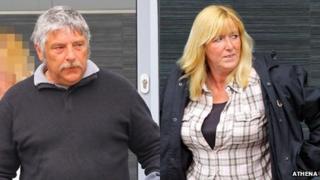 A teenager assaulted by her parents for having a black boyfriend says she hopes they will apologise and accept her relationship.
David and Frances Champion from Swansea were jailed for twelve and nine months respectively after they admitted the attack on Jane, now 18.
Her boyfriend Alfonce Ncube, from Zimbabwe, was also racially abused.
Jane Champion told ITV1's This Morning she would forgive her parents if they apologised.
The student told the programme she did not hate her parents and hoped that one day they would accept her and her boyfriend's love for one another.
She said: "Alfonce and I do love each other. How much? I'd say 10 out of 10.
"I've met his parents and they are not worried about the colour of my skin.
"They [my parents] have not said sorry to me yet, but I keep hope that they will do.
"Of course, I would forgive them and I hope we will be able to carry on."
On 6 August, Swansea Crown Court heard how Champion and his wife attacked their daughter when they returned home one night to find her with Mr Ncube.
Economics exam
They attacked her again a few weeks later when Ms Champion admitted she was still seeing him.
Ms Champion told the programme that her mother "did not seem bothered" when she first learnt of the relationship but things changed when her father found out.
"My parents were loving people and I had never had any problems with them before," she added.
Mr Ncube, 21, who appeared alongside Ms Champion on the programme, denied reports they had been "in a state of undress" and had been in fact revising for an economics exam.
He said he could understand Mr Champion being protective, but not why he was attacked because of his colour.
"I am not going to generalise... the whole population where we live," he said.
"I have had problems before this incident. I just think, 'When is it going to change?' "
Mr Ncube added: "They know we love each other and are living together.
"Jane should be able to visit them. I think that they are kind of adapting to it."