Pembrokeshire flood: 'Ocean of water' in Narberth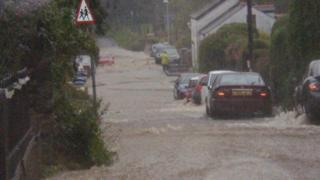 A woman has described how flash floods forced a river opposite her home to burst its banks and let loose "an ocean of water".
Jo Griffiths, from Narberth, Pembrokeshire, said the water was 10m wide and dislodged an LPG gas tank from their neighbour's home.
Fearing it would explode, Mrs Griffiths and her husband evacuated their children to the back of the house.
Several homes and caravans were flooded over the weekend.
Mrs Griffiths said: "It was all a little bit surreal, to be honest. We live at the bottom of Narberth Mill Lane and live opposite the river.
"The rain was coming overnight and you could gradually see the river coming higher and the water was coming over the river and then it completely burst.
"Within half an hour it went from the water flowing over - it felt like an ocean of water coming at your house and leaving your family feeling very vulnerable, to be honest."
'Quite frightening'
Mrs Griffiths's husband isolated a gas tank at a neighbouring house before it became dislodged.
"If it hit our house it could have exploded," Mrs Griffiths said.
"We got the children to the back of the house to safety in case it did explode. That was quite frightening."
Describing how she watched the water coming towards their house, Mrs Griffiths added: "If it's going to come, it's going to come - there was nothing we could do."
Mid and West Wales Fire and Rescue Service arrived and made the tank safe.
Mrs Griffiths and her family eventually escaped up a ladder over the back garden wall.
In Whitland, Carmarthenshire, five people were rescued by boat after their car was submerged in flood water.
There was also disruption on the roads and railways.