Floods: Five stranded in Whitland flood rescued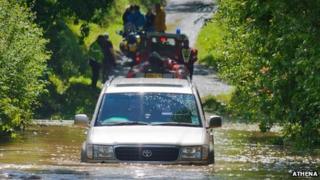 Five people have been rescued by boat after their car became submerged in flood water.
The rescue happened in Whitland, Carmarthenshire, after torrential rain was forecast across Wales.
Elsewhere, several homes and caravans were flooded in Narberth, Pembrokeshire, as well as disruption on the roads and railways.
Heavy rain is expected in Ceredigion, Pembrokeshire, Powys, Wrexham, Gwynedd, Denbighshire and Carmarthenshire.
The Environment Agency had a flood warning in place at in place on Sunday for the River Hydfron at Llanddowror, Carmarthenshire.
Throughout the day there were alerts on other rivers.
In Whitland, the five people were rescued by boat from their Toyota Landcruiser near Pengawse Hill.
Swift Water rescue teams from Carmarthen and Swansea carried the five to safety.
More rain is expected and people are being warned to prepare of potential flooding.
The Met Office warning said: "Slow-moving, torrential downpours will occur today, some of them thundery, with the risk of hail and strong winds.
Flash floods
"The public are advised to be prepared for the risk of localised flooding."
The Environment Agency urged people to be be vigilant as the forecast for Wales "deteriorated" during the day, and into Sunday night.
Excess water is likely on roads, it said, and some areas could experience more than an inch-and-a-half (40mm) of rain in three hours.
Its main concern is flash flooding from blocked drains and small streams, and rivers are currently not expected to rise significantly.
Rescue boats
The A477 St Clears to Red Roses road was closed due to flooding and a fallen tree, and a replacement bus service for train passengers was put place between Carmarthen and Tenby.
The road was later reopened.
Mid and West Wales Fire Service dealt with more than 70 calls between 08:00 BST and 14:00 BST on Sunday.
Most were in the Narberth area, but some were also recorded in the Swansea Valley as the showers moved east, with call-outs in Ystradgynlais, Gurnos and Pontardawe.
Fire boats have been used to rescue some stranded motorists, and remained on standby.
The service said flash flooding in Narberth affected six homes and 21 caravans.
It dealt with more than 20 calls to pump out properties and Narberth Bridge was closed, but later re-opened.
The worst-hit area was Mill Lane, Narberth, where a river also overflowed.
In south Wales, water coming off a mountainside flooded a property in Varteg, Torfaen.
Crews were called at 09:25 BST to clear the property and divert water. Police closed a road and the local council is putting out sandbags.