Bwcabus door-to-door bus service extended in Carmarthenshire, Ceredigion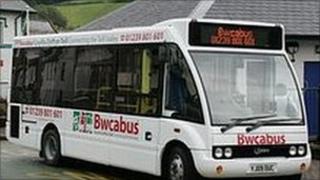 People living in rural parts of Ceredigion and Carmarthenshire have access to a new on-demand bus service.
The Welsh government is expanding its Bwcabus door-to-door service, on which users book their journeys in advance.
The bus has been used by 13,000 people in its first year but has been criticised by communities who have lost out on their regular bus service.
A transport expert behind the idea said it was value for money and "fully integrated".
The extended service was officially launched by Welsh transport minister Carl Sargeant at Trinity St David University in Lampeter.
The Welsh government said Bwcabus had transformed rural public transport in west Wales, running 12,750 passenger journeys during its first year.
The expanded service will now cover areas of north Carmarthenshire and the Teifi Valley.
It is being funded by £400,000 of Welsh government money, £600,000 from Carmarthenshire and Ceredigion councils and £1.8m from the Welsh European Funding Office.
Prof Stuart Cole, a professor of transport at the University of Glamorgan who came up with the Bwcabus scheme, said market research had shown that it had generated more passenger journeys.
"We are increasing... numbers of passengers... by about 4% per annum, whereas most rural services are going down," Prof Cole told BBC Radio Wales.
Prof Cole said the subsidy figure of £2 per passenger on the service compared with £6 per passenger on many of the conventional rural services which pre-dated it.
However Ieuan Davies, councillor for Llanybydder in Carmarthenshire, said some passengers were unhappy about the loss of direct bus services in the area.
"I feel quite annoyed about it, really, because we have lost our Arriva service from Llanybydder, Pencarreg and Cwmann," said Mr Davies.
"I think really people are a bit shy in coming forward and wanting to have the new Bwcabus.
"They tell me that their whole life is sort of overturned because they don't have the service, especially for older people, and they feel that their quality of life has just gone out through the window, because the buses, before, were going every hour."