Independent school Llandovery College faces £2m debts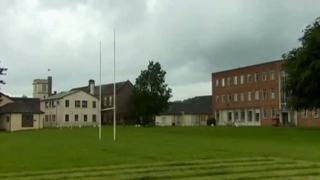 One of Wales' top independent schools is facing severe financial problems, it has emerged.
The latest reported accounts published by the Charity Commission show that Llandovery College in Carmarthenshire has debts of more than £2m.
Warden Guy Ayling said the intention is to restructure the college to deal with historic debts.
In a meeting on Thursday he told staff they will not be paid this month. It is unknown when they will be paid.
Meanwhile, parents have been invited to a meeting on Sunday afternoon to answer any concerns.
Past pupils at the school founded in 1847 include Wales player George North and singer Rhydian Roberts.
The boarding and day school has more than 300 pupils and employs about 100 staff.
Llandovery College is both a private company and a registered charity operating under the direction of the trustees.
'Fresh backing'
In the latest accounts published by the Charity Commission for the year ending August 2010 the college was running a deficit of £153,112 but had net liabilities of £2.2m.
Mr Ayling, who took over three months ago, said the college is currently making a profit but it's "all going to service the debts that have accrued over a long period of time".
"We will have fresh backing and new trustees," said Mr Ayling. "It's absolutely what's required."
He said the debt accumulated over 10 to 15 years but it had become unmanageable in the current economic climate.
Mr Ayling said there had been a steady drop in student numbers, which had now bottomed out, while there had been investment in building, including a new teaching block.
There were 292 students who started the academic year, but he hoped for numbers to rise to 320 by September 2012.
He confirmed that the existing company which runs the school will continue through until the end in July.
A new company has already been formed to take the college forward, he confirmed.
"There are all sorts of legal issues which need to be dealt with," said Mr Ayling.
Royal visit
At the time the accounts were filed last year, the trustees warned that the college was set to exceed its bank facility of £1.55m over the coming 12 months and was seeking further finance to the tune of £1.7m.
The accounts warn that even with additional finance, which required permission from the Charity Commission, the college was still expected to exceed its overdraft.
The creditors due payment included HM Revenue and Customs (HMRC).
The accounts state that the trustees had considered whether to begin insolvency proceedings.
Notable past pupils include Archbishops of Wales, renowned Wales and British Lions rugby coach Carwyn James and rugby star Craig Quinnell is among 40 past rugby internationals according to the school website .
Last year, Prince Charles celebrated St David's Day by visiting the college on its 163rd anniversary which included a performance by ex-pupil and singer Rhydian Roberts.
The prince attended with the Chinese ambassador to open a new classroom supported by the Chinese government to strengthen ties between the two countries.