Royal Mail's 'not at home' postal scheme after trial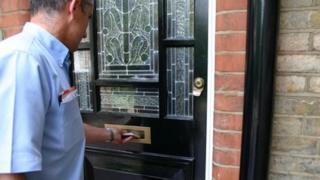 Posties could leave parcels with neighbours if no one is home after a "successful" trial.
Swansea was among seven areas across the UK to take part in a trial aimed at bringing Royal Mail services in line with other delivery firms.
Items too big to go through a letterbox or requiring a signature are currently taken back to local sorting offices.
Royal Mail said it was now seeking regulatory changes to allow it to extend the service across the UK.
It is the only major delivery company currently not allowed to deliver to a neighbour.
Households in Swansea East joined others in Edinburgh, Gatwick North, Hull, Norwich, Wigan and Bolton in trialling the scheme last November.
Around 748,000 households were involved in the pilot scheme, during which some 220,000 items were delivered to a neighbour.
Less than 1% of households requested an opt-out from the trial, said Royal Mail.
And feedback from homes in the trial areas suggested that 92% of customers were happy with the scheme, it said.
Chief customer officer Mike Newnham described the results of the trial as "very encouraging".
"Customers welcome the convenience of having items delivered to a neighbour if they are not at home to receive them," he said.
"Royal Mail is now seeking regulatory changes to allow us to extend Delivery to Neighbour across the UK for the benefit of customers."
Changes to the current practice would be subject to a public consultation by Ofcom, and an opt-out scheme would also be introduced, he added.