Dylan Thomas celebrations to mark centenary of birth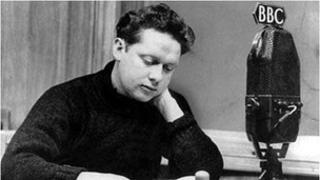 A year of celebrations has been announced to mark the 100th anniversary of the birth of writer Dylan Thomas.
Minister Huw Lewis said a series of events will recognise his life, work and legacy.
The Welsh government, the Arts Council of Wales and Swansea and Carmarthenshire councils will lead the £750,000 project.
It has also been announced that a statue of Thomas will be erected near his birthplace in Swansea.
The celebrations will take place throughout 2014.
The programme of large and small events will highlight the artistic, cultural, educational and commercial importance of Thomas's work.
The Dylan Thomas 100 fund will be split into three sections with £500,000 available for three of four main events.
A further £225,000 will be available for up to 10 medium scale events and another £25,000 will be shared amongst smaller community events.
Housing, Regeneration and Heritage Minister Mr Lewis said: "Dylan Thomas is probably the most famous and celebrated writer that Wales has ever produced and the contribution he has made to Wales, both culturally and commercially by attracting tourists from all over the world, is incredibly important," he said.
"Our vision is of a compelling, inspiring celebration of the life, work and influence of Dylan Thomas.
"A year­ long programme of cultural and academic activity that enthuses people in Wales and beyond, brings new visitors to Wales and has an impact that leaves a fitting legacy."
It has also been announced, in a separate project, a statue of Thomas will be erected close to 5 Cwmdonkin Drive, the house in the Uplands suburb of Swansea where he was born and lived for 23 years.
Welsh sculptor Peter Nicholas is close to finishing the piece which will then be cast in bronze.
Geoff Haden is behind the project and said: "The birthplace is the single most important building from Dylan's lifetime and we felt that a statue was a fitting tribute to the area that shaped his future work particularly as we found a sculptor with a massive reputation and similar views and ideals.
"The statue will be a huge boost to the Uplands area of Swansea which will be the focus for the centenary of Dylan's birth in 2014."