Strip club licence granted, but Swansea council opposes lease change near church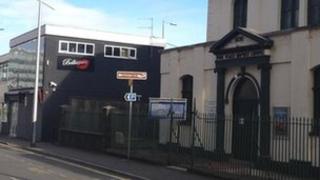 A licence for a strip club next to a church has been granted by Swansea councillors, but the firm behind it now faces a new fight over the lease.
The licensing committee approved Thomas-Bellis Leisure's bid for a pole dancing and strip club near York Place Baptist Church, with 63 conditions.
But the council is also the leaseholder on the building and says it will not consent to a change of planning use.
The applicant said it was "hopeful of a positive outcome".
More than 1,000 people signed a petition against the application.
Thomas-Bellis Leisure Ltd wants to set up the Bellissima club in York Street, Swansea.
Councillors discussed the application after receiving a report last Wednesday which said the applicant wanted to use the premises between 22:00 and 04:00 BST.
Swansea council has now announced the decision, and said in a statement: "The proposed use as a sex entertainment venue does not comply with the terms of the property lease.
"As the landlord of the building, the council would have to agree to any change of use for a sex entertainment venue and in this case it would not recommend that this change be allowed.
"This means that whilst the applicant has a sex entertainment venue licence, it cannot go ahead with the planned activities under the terms of the property lease."
The church's minister, the Reverend Haydn Dennis, wrote to the committee.
He said at the time of the meeting: "There are deep spiritual objections to this proposal and a concern for the welfare of the young people who will be involved in this type of establishment."
He also highlighted in his letter the council's policy which says "as a general rule," a presumption will be made against licensing of a sex establishment if it is "near places of worship".
Paul Thomas, director of Thomas-Bellis Leisure Ltd, said solicitors for the company were discussing the change of usage of the property with the council's legal department.
"This has been ongoing from the beginning of the year," he said.
"All parties are working towards a speedy resolution.
"With the recent acceptance of the SEV (sex entertainment venue) application, premises licence and permitted dance usage all agreed, we are hopeful of a positive outcome.
"Thomas-Bellis Leisure Ltd would also like to take this opportunity to thank the public for the huge amount of support Bellissima has received thus far."