New project to save Carmarthenshire red squirrels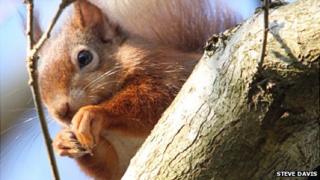 A new project has begun to help save red squirrels in north-east Carmarthenshire.
The red squirrels here form one of only three key populations left in Wales and the last in the south of the country.
The Mid Wales Red Squirrel Project has received £12,000 funding from Environment Wales to help support conservation.
The unique nature of the Tywi forest has enabled them to survive here longer than in the rest of south Wales.
Isabel Macho, biodiversity officer with Carmarthenshire County Council, said: "We are really lucky still to have red squirrels in Carmarthenshire and their protection is one of our priorities."
New funding has allowed the project to undertake a large survey of the Cothi and Gwenffrwd valleys to assess where squirrel activity can be observed and to involve landowners in red squirrel conservation.
It has also supported a programme of grey squirrel control that has been targeted to maximise the benefit for red squirrels in their core habitat.
Dr Lizzie Wilberforce of the Wildlife Trust of South and West Wales went on to explain, "Unfortunately, grey squirrels aren't native to Britain and have more or less replaced our native red squirrels throughout Wales."
Grey squirrels are much larger, out-compete reds for food and carry a disease called squirrel pox, which is fatal to red squirrels.
Huw Denman, a private forester and member of the red squirrel project, said: "Small changes to the way woodlands are managed, like altering the proportions of tree species you plant, can make a huge difference to red squirrels survival."
Working with local landowners, the project hopes to create a better future for red squirrels in Wales.