Swansea local TV opportunities explained to bidders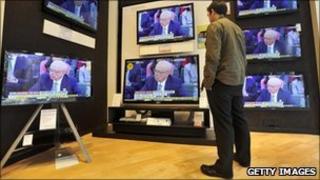 Opportunities to launch a local TV station for Swansea have been explained at a public meeting in the city.
Swansea and Cardiff were named in December as among the first group of UK cities and towns to have a local TV licence advertised.
Some critics have claimed there is no need for more channels and warn they may not be commercially viable.
But ahead of Friday's meeting, Swansea West MP Geraint Davies said local TV could be a "positive step".
'Pioneer' locations
Local TV has been proposed by UK Culture Secretary Jeremy Hunt, who claimed there was a "real demand" for programming more local than that offered by the BBC or commercial stations.
The event at Swansea Civic Centre on Friday was aimed at organisations interested in bidding for the licence, as well as community representatives.
The city was named as one of 20 "pioneer" locations identified as having significant levels of interest from potential operators and audiences.
The broadcasting regulator Ofcom gave a presentation on how it proposes to exercise its new powers and duties before a question-and-answer session hosted by Mr Davies.
He said: "I hope that this will be a useful exercise in establishing what a local TV station would mean for Swansea and the surrounding area.
"Local TV could be a positive step for the city in the run up to the Dylan Thomas centenary celebrations but it is essential that we find out more about how the process will work."
Elinor Williams, Wales director of Ofcom, said it was consulting with an aim of advertising licences as soon as possible.
"This event provides us with an opportunity to hear from potential applicants and other interested parties in Swansea on whether our proposed approach to local television licensing is appropriate," she said.
The consultation,detailed on the Ofcom website, closes on 19 March.
The local TV licence for Swansea is due to be awarded later in 2012.