Accused Jeffrey Gravell has 'no interest' in pornography, court hears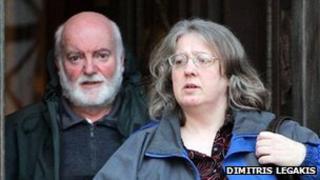 A school IT manager accused of possessing nearly 400,000 indecent images of children told a court he had no interest in pornography.
Jeffrey Gravell, 54, said he had a skin disease called balanitis xerotica obliterans, which made sexual intercourse painful.
Mr Gravell, of Carmarthenshire, claimed others at Coedcae School, in Llanelli, had access to the computers.
He denies possessing images of children, and theft.
Swansea Crown Court had previously been told that the images were found on computers and CDs at Mr Gravell's home while police were investigating an alleged theft.
Giving evidence, Mr Gravell said he had taken the computers home for repair or for use as spare parts.
Hundreds of CDs
He said he had never looked at images or files and was prevented from doing so under the Data Protection Act.
Mr Gravell described using computers at home to back up data from the school system and said that it had moved all material from computer to computer.
He said the CDs were among hundreds on their way to the tip and, again, he had no knowledge about what they contained.
Mr Gravell's partner Helen Griffiths, 43, faces a theft charge which she denies.
The case continues.