Stolen Tenby dog Molly found in Doncaster 16 months on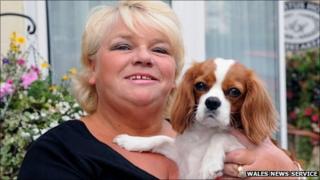 A family in Pembrokeshire has been reunited with their dog 16 months after she was stolen - thanks to a microchip.
Cavalier King Charles spaniel Molly is back at home with Tom and Andrea Richards in Tenby.
She was snatched from the seaside resort and sold to unsuspecting new owners 300 miles away in Doncaster.
But when Molly was taken to a vet after swallowing a conker she was routinely scanned and the microchip listed her as stolen.
Facebook group
Molly was then returned to Tenby within days.
Mrs Richards, 54, said: "It was amazing to have her back - and all because of a conker.
"We had offered a £1,000 reward, started a Facebook group and put out appeals on the local radio.
"But as each day went passed we thought the chances of finding her grew slimmer."
Molly was a 10-month-old puppy when she went missing in May 2010 after running out of the house and into a nearby car park.
Mrs Richards added: "I ran out after her and asked the car park attendant had he seen my dog.
'Really upset'
"He told me she'd got into a car with some people from up north who had told him they were taking Molly to the vets.
"That was the last time we saw her."
Molly's whereabouts over the following 12 months are a mystery but she was bought by a family in Doncaster in April this year.
She would have remained there if she had not eaten the conker.
"Fortunately Molly had been microchipped and when the vets scanned the chip it told them Molly was stolen."
Tom Richards added: "We were over the moon when we had a call to say Molly had been found.
"The family who had her were really upset, the children and grandchildren were crying.
"They bought her in good faith but they are now going through what we went through last year.
"She's an absolutely beautiful dog and we're very grateful to have her back."