Dylan Thomas fans will be on Swansea theatre mural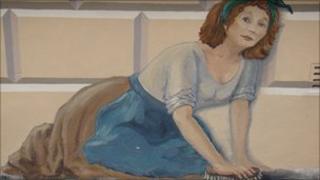 Dylan Thomas fans have the chance to see themselves as a character from one of his poems or plays on a mural at a theatre in Swansea that bears his name.
After a major refurbishment characters from his work have been painted on the new entrance to the building in the city's marina.
The 30-year-old mural on another outside wall will be repainted next.
To pay for it the theatre is running a competition, with the faces of three winners to be included in the artwork.
The theatre has undergone a £350,000 redevelopment with the use of a grant from the Arts Council of Wales and fundraising by volunteers and businesses
It included a new box office and bar as well as improved access for disabled people.
Local artist Alexandra Trowbridge-Matthews was commissioned to brighten up the new entrance with portraits of Captain Cat and Polly Garter from Swansea-born Thomas's play for voices, Under Milk Wood.
But spokeswoman Carole Jones said that had left the existing mural on the Gloucester Place wall of the theatre looking tired and scruffy.
She said to pay for a replacement they were running a competition where entrants paid £2 to have the chance of seeing their face on a Dylan Thomas character included in the artwork.
"There's still so much interest in Dylan in Swansea so we hopeful people will want to be included as one of his characters on the wall of the theatre," she said.
As well as including an image of Thomas, the existing mural is based on a variety of plays including Shakespeare's Merchant of Venice.
Mrs Jones said its replacement, which will be painted in the new year, will be solely based on Thomas's work.
"Dylan's characters are so wide ranging - if someone young wins they could be one of the children from a Child's Christmas in Wales," she added.
"It could be someone elderly, middle aged, short or tall. Alex will work her magic whoever it is."