Appeal after storm grounds seabirds in Pembrokeshire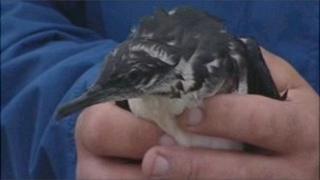 Members of the public are being urged to contact the RSPCA if they find any Manx shearwaters grounded by the current high winds.
The charity rescued almost 500 of the seabirds from the cliffs and surf at Newgale in Pembrokeshire on Tuesday.
Around 100 were put down either because of injuries or because it was deemed they would not survive.
The rest have been taken to an animal rescue centre in Somerset with the aim of releasing them back into the wild.
The RSPCA is returning to the area on Wednesday to see if any more are stranded.
It said on Wednesday some birds were being collected from as far inland as Llandeilo and Llandovery in Carmarthenshire.
It said it was the biggest bird rescue in the area since the Sea Empress oil spill in 1996.
There are an estimated 170,000 breeding pairs of the birds on Skomer and Skokholm islands off Pembrokeshire.
Skomer warden for the Wildlife Trust, Chris Taylor, said: "They are hardy little birds, really well designed for long distance flying."
But he told BBC Radio Wales the storm hit just as they were heading off on their annual migration to South America and many of those rescued would not have been very old.
"The young ones are probably the majority of birds that ended up on Newgale beach.
"Sadly this big storm, the biggest winds we've had on the island since March time, has hit them. It's really bad timing really.
"What I suspect is a big raft of birds, maybe resting at night, has been on the sea and then they've been caught up in the storm.
'Do our best'
"These sea birds need to be out at sea with the fish . . . they've got a massive journey to make before more storms come in so hopefully the RSPCA will release them as soon as possible."
The RSPCA is advising anyone who comes across a stranded Manx shearwater to let it know.
Inspector Keith Hogben said: "It is vital that we do our best to locate these birds as soon as possible as they are otherwise at risk with regards to predators, the weather, shock and hypothermia.
"We are alerting people that the juveniles may even be found further afield in Carmarthenshire and Fishguard in northern Pembrokeshire."
He said the birds had long straight slim wings and were black and white.
Their feet are far back on the body enabling efficient swimming but it makes life on land difficult. They cannot walk easily and tend to be ungainly, shuffling and sometimes sledging along on their belly.
"If you live in the area and do come across them the best way to capture them without encountering their sharp beak is to throw something like a towel over them and then carefully put them in a box," he added.
The RSPCA's 24-hour helpline number is 0300 1234999.