New lock gates to improve Milford Haven Marina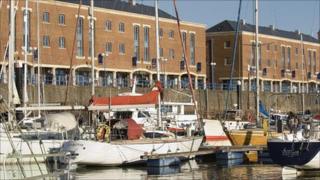 New lock gates are to be installed at a Pembrokeshire marina to improve access for pleasure sailors and fishermen.
The £5m investment at Milford Haven is aimed at boosting tourism and business at the port.
Managers say the new gates will extend the times boats can come and go from the 328 berth marina once work is completed by the end of 2013.
The Milford Haven Port Authority said it was part of its drive to make the port a top sailing destination.
'One of the best'
The investment is being partly funded by the EU to encourage tourism along the Welsh coastline.
The port authority's engineering director Andrew Brown said: "At the moment berth holders just can't access and exit as much as they'd like.
"Our plans will reduce the locking time and make Milford Marina one of the most accessible locked marinas anywhere in Britain."
The new gates, to be built inside the existing lock, will offer sailors a 24 hour locking service compared to the current limited access.
Nathan Hewitt of Pembrokeshire Marine Group, which manages the marina in partnership with the port authority, said: "Leisure sailors tell us the haven is already quite simply one of the best places to sail in Europe.
"What this new full width lock does is to hugely improve access.
"This is a benefit not only to visiting sailors and commercial users but also the hundreds of boaters who use the waterway.
"With more visitors to the marina the local Pembrokeshire economy will benefit too."