Porth Remploy workers stage protest over jobs fears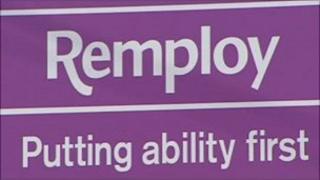 Disabled workers in Rhondda Cynon Taf are staging a 48-hour protest as the UK government consults on the future of Britain's Remploy factories.
Seventy two jobs in Porth are under threat, along with more than 300 others at eight other Remploy bases in Wales.
There are 54 Remploy factories left in Britain offering sheltered and safe work for people with disabilities.
The UK government is considering a report which suggests workers could find posts in the mainstream market.
The Remploy factories were set up after World War II to provide a sheltered environment for people with disabilities.
Jason Seldon, who works for Remploy in Porth and is a member of the GMB union, said the factory's closure would be "devastating" for the area.
"The protest starts at 12pm, but this is just the start. We have set up a committee and are looking to stage other events such as a march."
Mr Seldon said the Porth factory recycled old computers.
"If the factory closed it would be devastating for the area. There are not many jobs in the Rhondda, many of the jobs are in local supermarkets, so if the factory closed it would be devastating for the area," he added.
He said workers from other Remploy factories in Wales had been invited to attend the protest.
Bridgend Remploy worker Robert Jenkins, 42, said the idea that disabled people could be helped to get jobs elsewhere were "slim to none".
"There is not enough work for people out there now. If someone abled-bodied can't get jobs what hope have we got?" he told BBC Radio Wales.
Mr Jenkins said workers had the support of first minister Carwyn Jones who is the local assembly member.
"People have the wrong idea about Remploy [workers] - they think we sit there and basket weave," he said.
"But I can tell you now we do a lot of work for people like Ford and Honda."
A Department for Work and Pensions spokeswoman said "no decisions" had been made about the future of Remploy.
She added: "We said we would consult on the recommendations put forward by Liz Sayce and that is what we are doing.
"The Sayce review is about spending money differently, not cutting it.
"The amount of money going into employment services for disabled is being protected. But by spending it differently there is the potential to support an extra 35,000 disabled people into work."