Howies founders' jeans 'lifeblood' hopes for Cardigan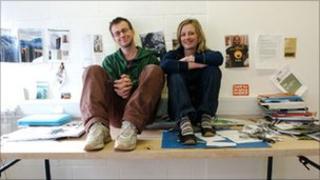 The couple behind the Howies clothing range say they hope to rekindle the "lifeblood" of a town hit by 400 redundancies 10 years ago.
David and Clare Hieatt will start a jeans-making business employing six people in Cardigan in September.
About 400 people lost their jobs in 2001 when jeans-makers Dewhirst closed its factory there.
The Hieatts - who sold Howies to Timberland in 2007 - hope to "create jobs" for all former Dewhirst workers.
The Dewhirst factory produced about 35,000 pairs of jeans a week and supplied high street chain Marks & Spencer.
Howies, whose products included "organic" t-shirts and jeans, was formed in London by the married couple in the mid 1990s but moved to its Cardigan base in 2001, where it employed 20 people, and was later sold to US giant Timberland.
Mr and Mrs Hieatt are taking a five-year lease on a Welsh Government-owned unit on the Parc Teifi Business Park.
Mr Hieatt said: "Jeans manufacturing was the lifeblood of the town at one time and the public response towards our plans has been fantastic and there's great excitement that we want to get those skills working again.
"We will start in a small way and initially employ six people although our crazy dream would be to create jobs for all the people in the town who were made redundant when the Dewhirst factory closed down."
Business Minister Edwina Hart said entrepreneurs had an important role to play in stimulating the economy.