Swansea's Tawe road bridge traffic system changes start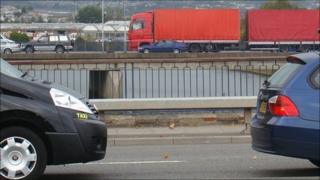 Changes to the traffic flow over the river bridges on one of the busiest routes into Swansea have taken effect.
Swansea council has created a clockwise movement of traffic driving in and out of the city in a bid to cut congestion and reduce queues.
Alterations at the River Tawe crossings came into force on Sunday.
Traffic marshals will be in place to try and ease the transition during the rush hour on Monday.
The changes have been brought forward with contractors saying introducing them in the summer instead of later in the year allows more daylight hours for motorists to get used to them.
The works forms part of a boulevard project between the river bridges and the LC that aims to improve the gateway in and out of the city centre.
Traders have blamed roadworks and other alterations to the layout of the city's streets for a drop in business.
But council cabinet member John Hague said the bridge changes would improve Swansea.
"The boulevard scheme will generate better links between the city centre and our stunning seafront and will make it easier for pedestrians and cyclists to cross between the two areas," he said.
"It will also help attract investment into our city by making a key gateway into Swansea far more visually attractive.
"The river bridge improvement works are vital to the overall scheme and the new traffic layout we've identified will help the bridges cope with the projected increase in traffic over the next 10 years."