Carmarthenshire saves thousands in light switch off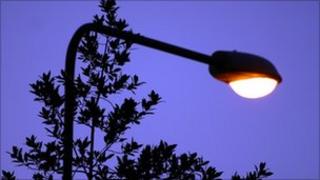 Carmarthenshire council says it is saving over £3,000 a month by turning off some street lights after midnight.
More than 3,000 of 18,000 street lights in the county are dimmed between 0030 and 0530 BST with another 3,000 to follow.
The authority said it has received 31 complaints since the policy was introduced last year.
But the council said it had consulted with police and no road safety issues had been identified.
An update going before councillors on Thursday says the switch-off has been completed in the southern area of the county, including the largest town, Llanelli.
A survey of suitable lights for dimming is now under way in the north.
There has been teething trouble with the new lights with some not going out when they should, and on one night none of the new lights came on at all.
But the council said the problems were being resolved.
A report said the measure was now saving around £3,370 per month on last year's energy bill but pointed out that energy prices had risen by 19% this year.