New batch as Swansea City sell 40,000 Wembley tickets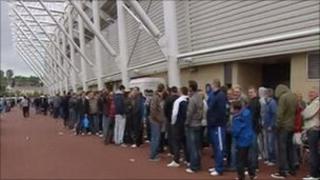 Swansea City say a further batch of tickets will be made available for Monday's Championship play-off final at Wembley.
The club had said on Tuesday that there are no more tickets left despite a fresh batch being released earlier in the day to top their 39,376 allocation.
But more £98 seats and a 323 restricted view seats will go on sale on Wednesday.
At its peak, fans queued for more than six hours a day at the Liberty Stadium.
A win would see the Swans promoted to the Premier League.
Season ticket holders, premier club and supporters' trust members were given priority with tickets then going on sale to the general public on Saturday.
The online and phone service sold out at the weekend while the ticket office still had 80 tickets available on Tuesday until more were released by Wembley.
The club praised fans for their patience during the process.
Swansea said on Tuesday night it would be receiving a further allocation of seats.
The club had already sold its allocation of over 40,000 by Tuesday, but more seats priced at £98 and and an extra 323 with restricted views will go on sale at the ticket office at 1000 BST on Wednesday.
The restricted view tickets range between £18 and £38.