Book shop at Dylan Thomas Centre gives stock away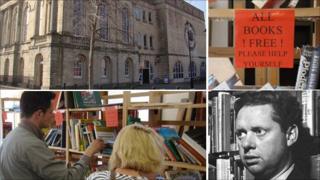 Hundreds of books have been given away as a shop in Swansea's Dylan Thomas Centre closes ahead of major changes.
Jeff Towns has run a book shop in the building for more than 15 years but has been told there is no longer room for his business.
Swansea Council is looking to lease the centre to the city's universities to open a "creative industries hub."
The changes have been questioned by over 200 writers, artists and supporters of the centre.
Dr Who writer Russell T Davies, Cerys Matthews and Poet Laureate Carol Ann Duffy are among the names calling for it to be run by a trust.
Mr Towns, also an expert on Dylan Thomas, said to mark the closing of his shop he had decided to give his second hand stock away.
"I'm under pressure to empty it - 28 April is the last day," he said.
"I have to be out of there and there's still a couple of thousand books left, so I thought the best way to get rid of them was to make them free and let people come and help themselves."
He said he had been at the centre since the day it opened and it had been a "fantastic time".
"It's a sad day, but this is some way for me to put a more whimsical and happy spin on it," he added.
A Swansea council spokesman said the authority was in "advanced talks" with the University of Wales about a joint venture deal that would secure the Dylan Thomas Centre's future.
He said: "We are discussing the final details of an agreement with the intention of the Dylan Thomas Centre retaining its name, the centre being home to the popular Dylan Thomas Exhibition and the centre housing the University of Wales Dylan Thomas Prize.
"It's also the intention that the literature programme will continue to be based at the centre and held at other venues across the city to broaden its appeal."
It said it would work with the Welsh Assembly Government and leading figures in the arts world to ensure the city celebrates the 100th anni versary of the poets birth in 2014 in style.