Caerphilly mother's terminally ill care funding despair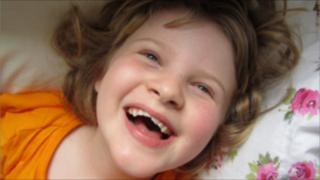 The mother of a terminally-ill girl says she has considered putting her into care because of funding delays.
Poppy Blewett-Silcock, eight, has Warburg Micro Syndrome, meaning she is blind, unable to speak or walk and needs tube feeding.
Both the Caerphilly social services department and Aneurin Bevan Local Health Board (LHB) acknowledge that Poppy, who is unlikely to live far beyond 10, urgently requires a variety of support.
Her mother, Dr Tymandra Blewett-Silcock, from Caerphilly, says they have been left waiting for six-months as neither body will take responsibility for funding her support.
Poppy's needs range from respite and nursing care, to equipment such as a hoist, specialist wheelchair and bath seat.
Dr Blewett-Silcock said such specialist equipment and support would make her daughter's final years easier, safer, and more enjoyable.
"I don't know who should be picking up the tab, and quite frankly I don't care," she said.
"I just need the support in order to make whatever time we have with Poppy as safe and hassle-free as possible."
"Don't get me wrong, we have a fantastic life. Even though Poppy is blind, tube-fed, and in a wheelchair, she is a mischievous bundle of fun.
"But as she's grown and her condition has progressed, the support she needs has increased dramatically."
"Everyone agrees what she needs, but social services say she has nursing needs, and should therefore be funded by the NHS, while the LHB say, as she isn't being treated at home as such, social services should pay as her needs are purely care-based."
She added: "We are patient, but time is unfortunately the one thing Poppy doesn't have on her side."
She also said that although funding for a bath hoist was still under dispute, they had been warned against manually lifting Poppy out of her bath.
She had recently been told no equipment orders would be placed until funding was agreed, she added.
"It's an absolutely terrible thing for any parent to say, but if we simply said we couldn't or wouldn't care for Poppy any longer, then they'd have to cater for her needs, and the argument would be resolved one way or the other."
Caerphilly council and the Aneurin Bevan LHB denied they had reached deadlock.
A LHB spokesman said: "Continuing health care cases do need to be thoroughly assessed and we apologise for any delay whilst this work has taken place.
"We are working with the local authority to ensure that the equipment required is sourced as quickly as possible to bring about a satisfactory conclusion for the family."
Caerphilly council said it had worked closely with the family over years to provide the best levels of care and support.
"These needs have changed and become more significant over time, so we have recently reassessed the situation to identify the most appropriate equipment for their home," said a spokesman.
"Unfortunately, some of this equipment is of a bespoke, specialist nature such as hoists, slings and seating which needs to be purchased and installed by specialist suppliers."
The spokesman said they were sorry about the delay due to technical requirements but reassured the family that they were doing everything possible to speed up the process and ensure that they receive the best facilities on offer.